Our streamlined R&D process allows us to investigate and solve your product development challenges quickly and effectively. Innovative thinking and speed-to-market are just a small part of the value-added resources we place at your disposal. Hampford Research's labs are capable of running a wide variety of reactions. We are outfitted with the full spectrum of lab synthesis equipment designed to support our development of new materials or the improvement of existing ones for our customers. We have helped customers meet a variety of challenges that include complying with new environmental regulations, reducing processing time, formulating novel chemistries for a broad range of conditions and satisfying an assortment of unique end-user benefits.
The goal of Hampford's Development Team is to…
Create innovative, enabling technologies and solutions
Analyze and assess technical challenges and processes
Collaborate with customers to cost-effectively develop and produce innovative specialty chemical solutions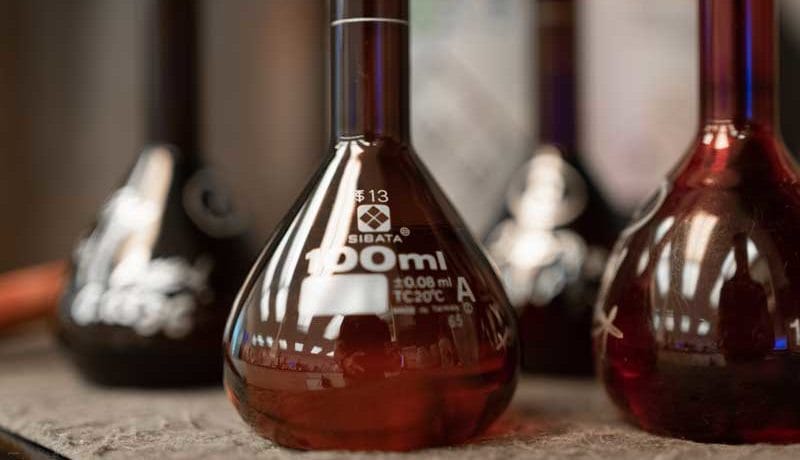 Analytical &
Quality Control

Capability

Hampford Research's laboratory offers a wide range of analytical capabilities. Experienced personnel utilize well-documented procedures and specifications to facilitate the production of high quality products. We test all raw materials on intake, and verify COAs prior to releasing materials for processing. Hampford's dedicated in-process and final product testing procedures ensure that our customers are receiving the highest-quality products. We encourage collaboration with our strategic partners, and encourage input to help us develop and improve our procedures and methods to best meet their needs.

The diverse and flexible laboratory provides excellent support for research and new product development.
Analytical & Quality Control
Equipment
Spectrophotometers
Perkin Elmer Lambda 25 UV-VIS Spectrophotometer
Perkin Elmer Spectrum 1000 FTIR
Perkin Elmer Spectrum 100 FTIR
Perkin Elmer THGA Graphite Furnace AA Analyst 600
Perkin Elmer Pinnacle Flame 500 Atomic Absorption
Spectro Model 200 XRF
Chromatographs
Perkin Elmer Auto System XL Gas Chromatograph ECD and FID detector
Perkin Elmer Auto System XL Gas Chromatograph FID detector
Agilent 1100 Diode Array Hplc
Agilent 1260 HPLC with UV Detector
Waters Alliance GPC
Wet Chemistry
Mettler Toledo Auto Titrator
Mettler Toledo Karl Fischer Auto Titrator
Thermo Scientific Digital pH Meter
Therma Centro CL@ Digital Centrifuge
Metrohm Karl Fischer Auto Titrator
Physical Testing Apparatus
Instron 5943 Tensile Tester
Heraeus Belt Radiometer with UV and LED Sources
Nikon Eclipse LV100ND Microscope
Cleveland Open Cup Flashpoint Tester
Bausch & Lomb Refractometer
F. Scientific Micro 1000 Turbidimeter
Brookfield Cap 2000+ Viscometer
3 Mettler Analytical Balances
LovibondNessleriser 2150 Color Tester
American Optical Stereo Micro
Thomas Hoover Capillary Melting Point apparatus
Perkin Elmer Pyris 6 Differential Scanning Calorimeter
Rudolph Research Analytical Density Meter
Analytical ovens with and without vacuum
Thermo Recirculating Water Bath